Sea kayaking, Cape Breton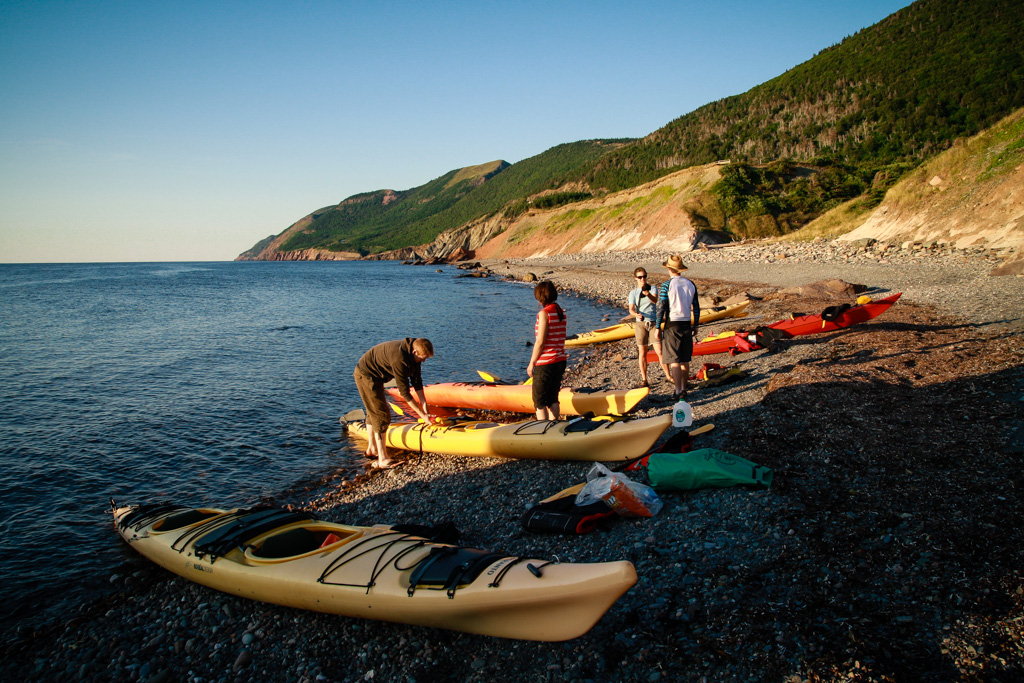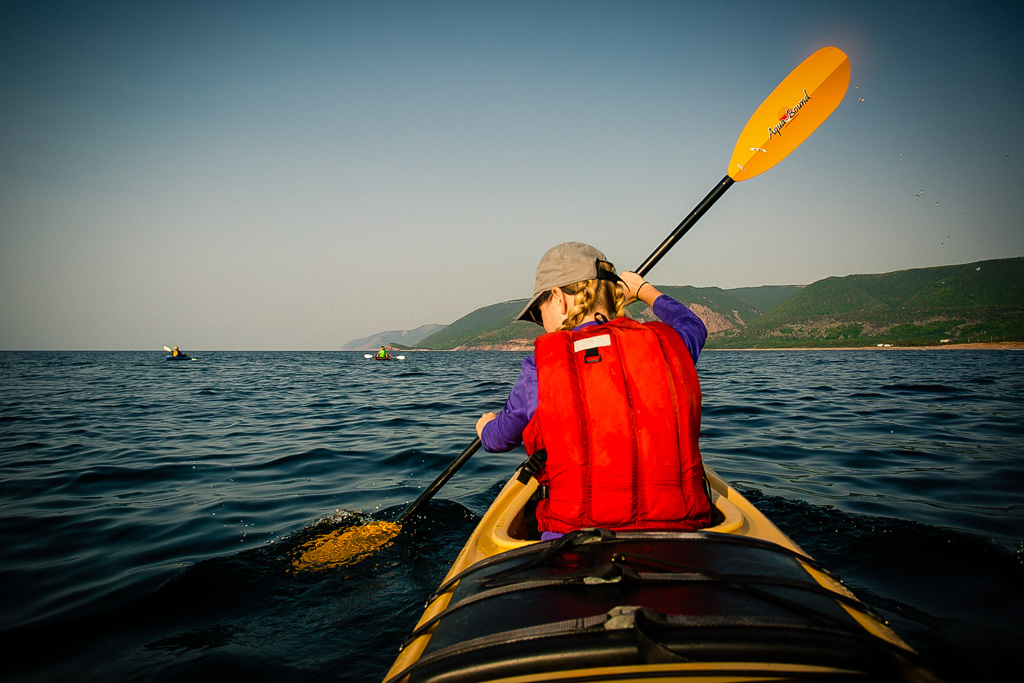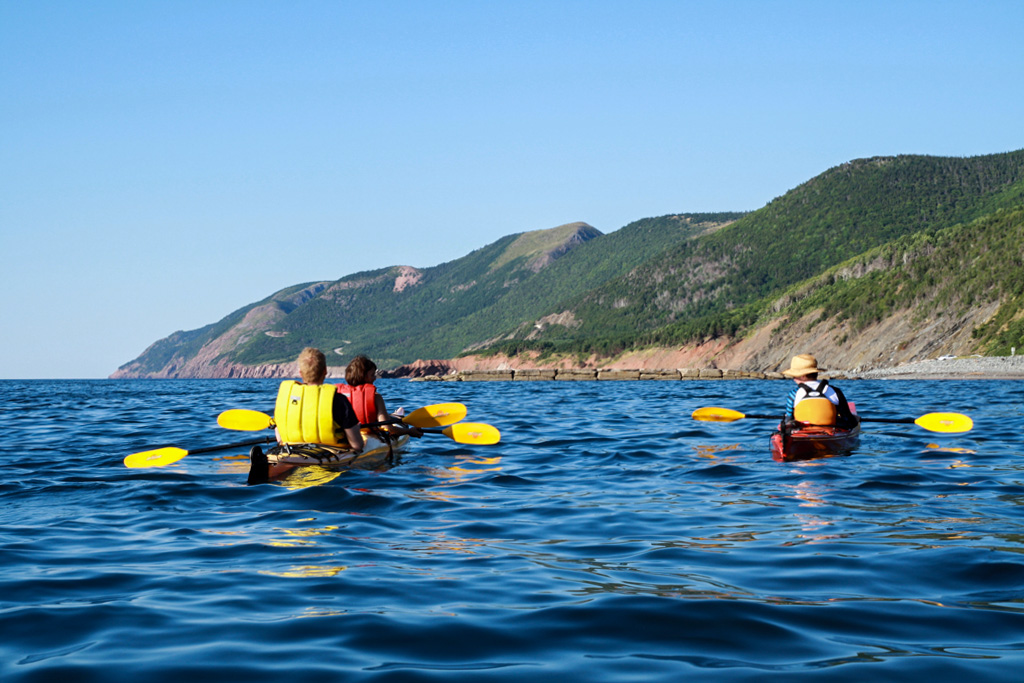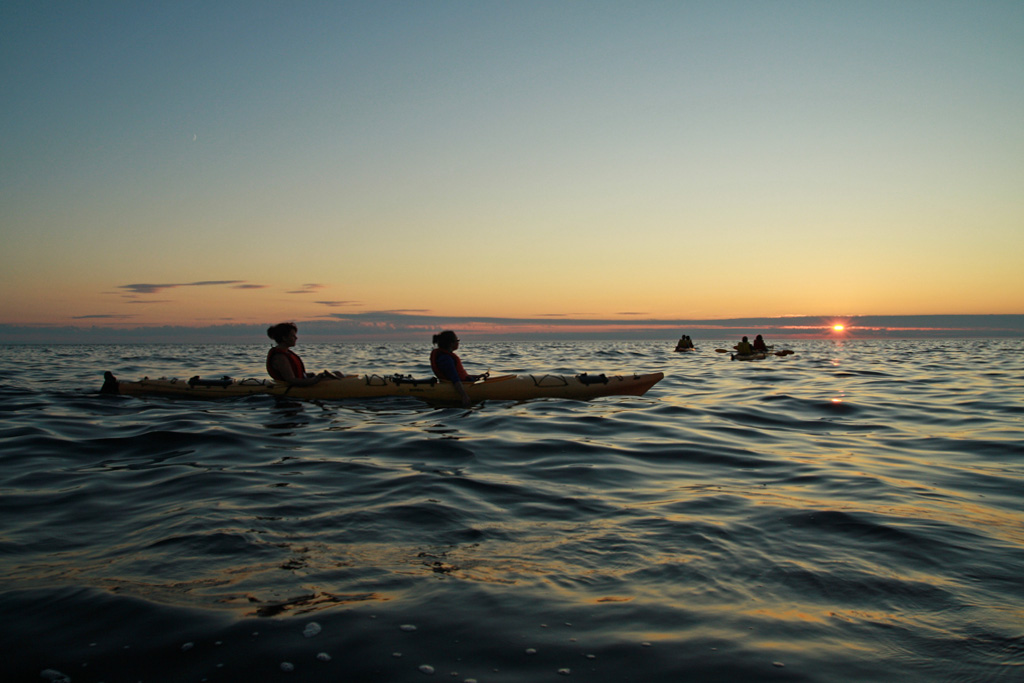 "Everything else just seems to fade away when you're out there on the ocean, paddling through gentle waves."
Whether you are an experienced kayaker looking for an organized tour with a guide, or you are a complete novice; there are various locations and companies you can choose from to have a great experience.
The last time we went out for a big group kayak trip was around Cheticamp and we had borrowed the gear from some friends. We left from downtown where the zodiac whale cruiser has his booth set up. This is a really good launching spot. It's shallow to get in so you can just walk in with your kayak and usually the water is pretty calm here as it's right in the harbour.
Kayaking through the harbour is really nice, because you have a great view of the village with the mountains behind. You can actually spend hours just paddling the entire length of the harbour as it stretches quite far. This is a good option for anyone who is still nervous about going out on the ocean or if it's still a bit rough out there.
On our last trip, we left the harbour and made our way towards Presqu'ile - a well known rock formation in the park. We usually stayed somewhat close to the shore just in case and paddled together in a group. Presqu'ile is made up of two big boulders sticking out of the ocean. Most people only get to see them from the shore. They are probably one of the most photographed scene on this side of the island; truly beautiful. The great thing with the kayaks is, that you can pass between these two big boulders. So we did. It was pretty cool to paddle right between these two giants and it really changed the perception of the shape and dimension of them for me as I had only seen them from land before.
From there we made our way along the shoreline. We enjoyed staying fairly close to shore here as there were more interesting rock formations and little caves along a cliff. One of my favourite parts of the trip was paddling along La Bloc beach. The old wharf is such a big part of the history here and just a beautiful sight. Seeing it from the water was really special and made me feel like we went back in time.
As the sun was slowly setting we paddled towards Corney Brook Beach, Cape Breton Highlands National Park. For quite a while we just let ourselves drift and soak it all in. Watching the sun drop below the horizon was just so serene and we could have stayed there forever. Unfortunately we had to make our way home, so we paddled towards the shore at Corney Brook Beach where our friends were waiting to pick us up. I don't recall exactly how long we were out there, but I think it was around 3.5 hours. Who cares how long it was. Time just fades with things like these.
I definitely recommend you take care when venturing out along the shore without a guide. The currents can be strong and winds can pick up quickly around here.
There are several tour operators and rental places in Cape Breton all located in different areas, offering different trips and packages. You can check out North River Kayak, Eagle North Kayak, Kayak Cape Breton, Cabot Shores and The Groundswell.