Mount Katahdin, Maine
When Roman showed me his GoPro video where he scaled "the knife's edge" of Mt. Katahdin in Maine, I think I felt my gut tighten - yet fill with excitement! Climbing a real mountain with such an extreme ridge was scary and exhilarating all at once! Roman said the GoPro video made the ridge look 10 times more dangerous than it actually is - I'm not sure I fully believed him but we were already in Baxter's State Park and had our hiking permit in hand. There was no room for me wimping out.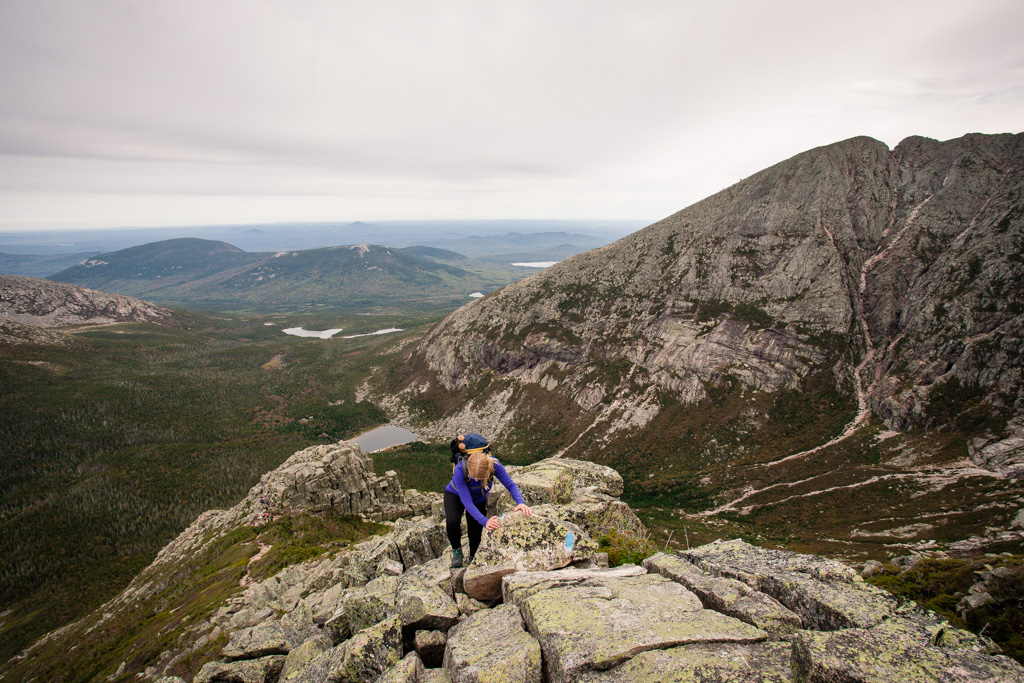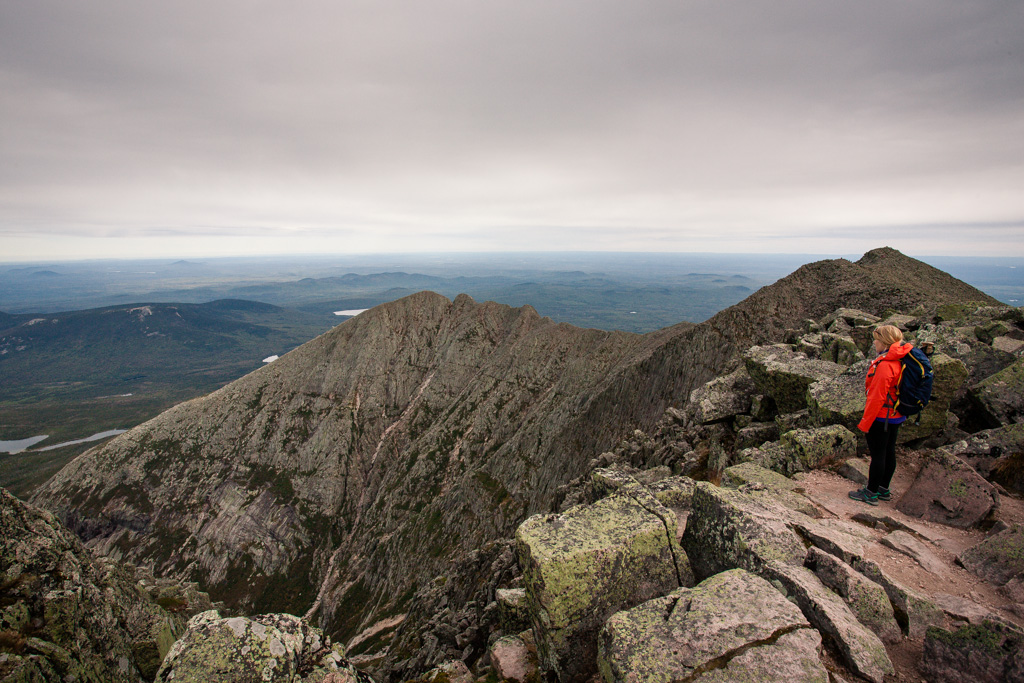 On went the hiking boots, packs, and enough food to hold us over for a 10 hour haul. Yes, you read correctly!! 10 HOURS! I've always liked a hike in the woods - but hiking a true mountain with that elevation was unknown territory to me! The first two hours was mostly trampling through the woods which later turned into rock scrambling/climbing. It was really quite beautiful to be hiking amongst tall evergreens; the forest was covered with fall foliage and many colours to make a dazzling feast for the eyes. At the base of the mountain we were already clambering over small boulders which led me to start worry about what was coming next!
We hiked up Cathedral trail which was like bouldering - it took quite a bit of effort. Once that was completed, we stopped for a much needed break and continued onward and upward. I recall taking a lunch break away from the busyness of the trail. Hiking the Cathedral section was pretty crazy - I just kept thinking "don't look down! Or back! just keep your eyes looking forward and up!!"
Once at the top, we stopped for several scenic shots - I mean come on, we were at the top of the Appalachian trail. We would have been quite silly to just walk on without taking in the scenery! There were some thru-hikers finishing their trek - they looked simply exhausted, as expected. The Appalachian thru-hike isn't exactly "a walk in the woods" that Bill Bryson describes - it's much tougher!!
When we had our fill of photos and food, we packed it together for the extreme part of the trail. Lots of people avoid this next section because no wonder - it's super scary!! The first part of the knife's edge is pretty fair - it's not too tricky - one just needs to be watching out for loose rocks. The worst section is where its about 3ft. wide and you're focused on moving forwards and not looking side to side at the 5000ft. drop on either side of you...
I recall crawling at one point just to get through it. The winds can easily rip strong at the top - so you have to pay attention to the weather forecast and use extreme caution. After the worst of the ridge was over, we had to figure out how to climb down the rock face; we had to guide each other down a steep section with our bags.
I managed to twist my ankle at some point during the hike which made the way down slightly brutal. There were huge boulders and narrow paths - that seemed to reach on forever. Darkness had set in before we made it back to the trailhead; because of my ankle we had to walk a lot slower. Anyhow, we made it out, relatively unscathed and feeling extremely accomplished! It was now just figuring out how to hobble to the nearest restaurant for supper that would be our next battle.
If you're ever in the area we definitely suggest checking out this mountain, there's lots of trails and something for every nature lover!